Magazine Online
The Himalayas: Saving Our Saviour
By Dr Kirti Singh
Consultant Dental Surgeon
E-mail:
[email protected]
Until the turn of the last century, climate change was just an academic term, of interest to a few. 90s youngsters grew up watching it as an interesting backdrop for a Hollywood sci-fi movie, but never utterly understood the real issue or cause behind it. I never wildly imagined the possibility of a real time holocaust or a doomsday; unfold, in this very lifetime. But growing up, while education played its part, for me, it led to an awakening to the reality of our anthropocentric lives. I understood that it is not a remote possibility or fictional reality anymore; rather quite a factual one. It is indeed a time to build a Noah's ark.
The Himalayan range is a pride of our Indian subcontinent, standing tall and majestic for the zillions of years. It is truly a nature's heaven, with its unparalleled landscapes and a biological hotspot with diverse flora and fauna in the region. But it is facing the threat of its lifetime. It has been declared by experts as the most fragile ecosystem and hazard prone regions in the world.  It is quite evident that, with carbon levels reaching the highest ever records, human populations pounding on extracting every bit of natural resources, profit driven economical (growth) with no vision for sustainable development and environmental conservation still not getting its deserved status among the stakeholders, it's a dead end ahead. Finite capacities, finite space, finite resources and finite time, at our hands, are the factors that make climate change a burning issue. Ongoing Pandemic has been a wakeup call by the nature.
Gone are the days to debate about reasons behind changing climatic patterns or whether it is happening or not happening. There is enough evidence to prove that it is indeed occurring at this very moment and it is happening at an alarming pace. It is therefore imperative to read on about some climatic facts in the Himalayas:
Temperature variation has been quite dramatic in the region. According to research, the average temperature rise has been recorded at around 1.3oC in the Hindukush region (which includes K2 and Mt Everest) during the time period 1950 to 2014, which is higher than the rise in the global average temperature worldwide. In simple terms, the Himalayan range is warming more quickly than the rest of the world, which can lead to catastrophic events developing sooner.
The retreating glaciers in both the eastern and western Himalayas and the expansion of glacier lakes, especially in the Tibet,  Nepal, and Bhutan regions, are another reason to worry. These leave the region prone to risk of flash floods and frequent avalanches. The glaciers feed the top 10 most important river basins such as the Ganges, Indus, Yellow, Mekong, etc. Inhabitants are dependent upon these freshwater glacial rivers for domestic utilization, hydropower projects and irrigation purposes. It is thus easy to imagine the physical and economic consequences looming in the region and for the population residing in these terrains, due to the loss of glaciers.
Pre-monsoon/ monsoon precipitation has evidently shown a decreasing trend in the western Indian Himalayas and an increasing trend in the eastern /Indian Himalayas. However, winter precipitation has shown a downward trend between December and February, during the period 1975-2006. This weather pattern has wreaked havoc by through flooding as well as impending droughts / water shortages in the same regions. This can have catastrophic biophysical and economic impacts over time.
Deforestation and loss of core forest regions has been underreported by governmental departments and is not adequately documented. As per research in Springer, it is estimated that the Himalayas would be left with 10% of its forest cover and would witness about a quarter of its biodiversity lost by 2100, if the current rate of devastation continues.
To top it all, rampant plastic pollution, water wastage, visionless and unsustainable development in the cities, lack of political will in conservation matters and the brunt of unethical tourism in the region have played their fair share in this snowballing process of devastation.
As the saying goes, every cloud has a silver lining, and to make it true some people rise above and beyond their comfort zones and make positive change happen. Here is a story of a fellow climate reality leader, who chose to work on the path less travelled.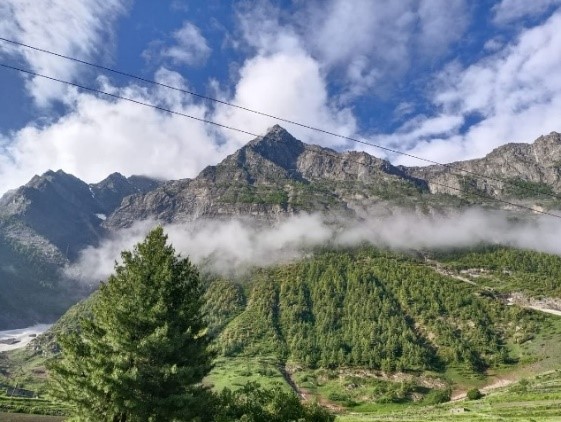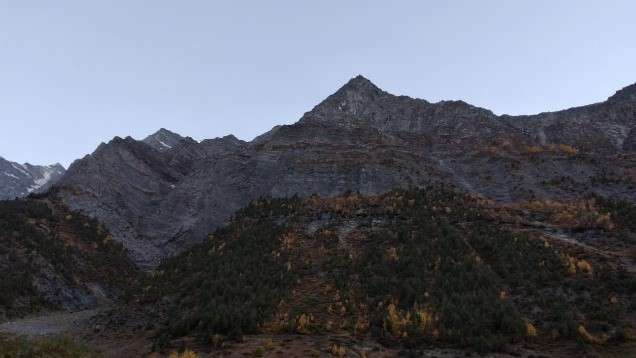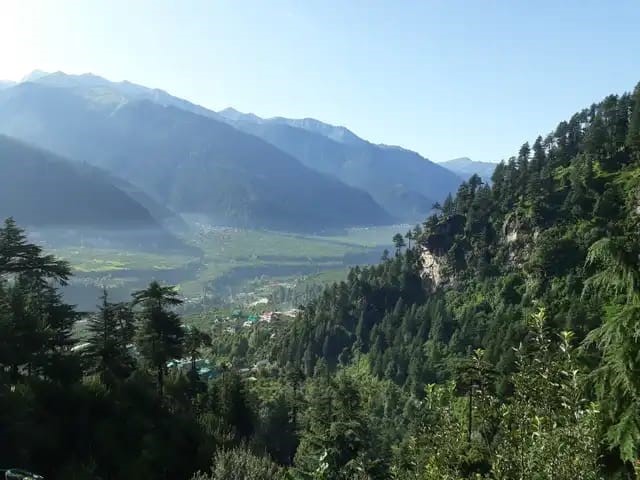 Photography by Yetika Dolker
Extraordinary work by ordinary people: Little Green World
Ms Preeti Chauhan is, a social development entrepreneur by profession, civil engineer by qualification, an environmentalist by belief and a zero-waste practitioner by passion. Her vision makes her no less extraordinary. A Mumbai girl at heart, who dons various caps with a charming smile. Her journey from being a corporate employee to being a social entrepreneur in Ladakh, India, has been an amalgamation of adventure with self-reflection and awakening. During a trek to Kedarkantha, in 2017, the piles of trash on the mountains changed her perspective of trekking and eventually brought out the concerned environmentalist in her. She would, later, in other trekking endeavours, engage in collecting waste along the treks. It gradually grew into her consciousness and she began travelling and volunteering with various organizations in the Himalayas, creating awareness about waste disposal, especially by the trekkers and tourists, as a major public health issue. In 2018, interning with a local organization, she soaked in the essence of doing extraordinary work by engaging in teaching about waste segregation with local communities and villagers. She began to get her hands dirty,  and eventually in 2019, she resigned from her corporate job and shifted to Ladakh for good. As a Naropa Fellow, she had the experience of implementing a Wipro Earthian program, in collaboration with various schools in Ladakh. While voluntarily working with one councillor, she was part of a sensitization spree on the segregation of solid waste, with the villagers.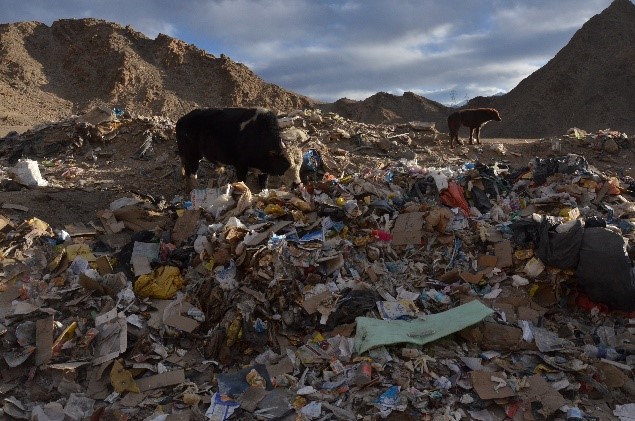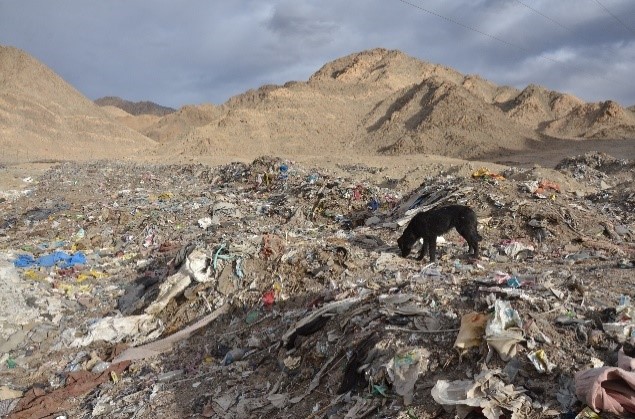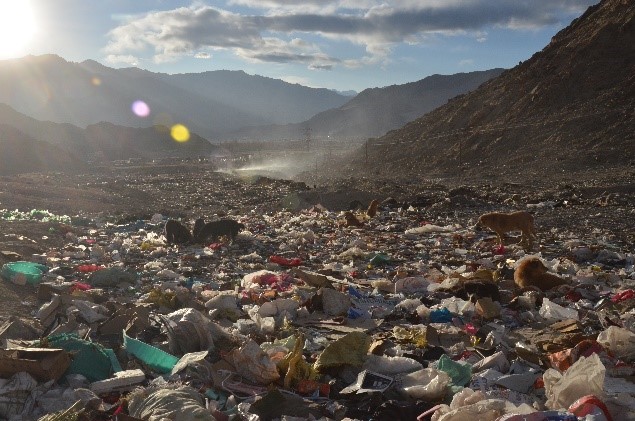 Garbage and landfill at Ladakh Region, India. Photography by Akash Jain
For a short period, she also interned with the  Rural Development Department of Ladakh and consulted on their various shortcomings. In 2020, she started her own social enterprise, Little Green World (LGW), which holds the vision of enabling each individual to become a conservationist and a zero-waste practitioner.
This organization is devoted to issues such as, unethical tourism, sustainable practices and reducing the waste piles on the mountains. According to a research paper in 2018, around 50,000 water bottles are dumped daily in Ladakh during the peak tourist season in summers. Locals with no means of technical knowledge and a lack of awareness, end up burning the waste or throwing it down the river to get rid of the piles.
LGW aspires to change this aspect of an adventure trip. It provides training, workshops and awareness campaigns among the villages, local bodies, forest departments and schools as an early education program. It has devised courses and training modules, for individuals and institutes, promoting zero waste practices, which have been approved by mountaineering institute and forest department of Uttarakhand, India. It has also received a mini grant from the Global Alliance of Incineration Alternatives (GAIA). LGW under this project will promote zero-waste and a circular economy culture amongst the tourism sector of Ladakh and geo-map the water refilling stations in Ladakh from a strategic perspective.
LGW advocates cutting down not just carbon footprints but also trash, water, and land footprints. It advocates for responsible tourism, sanitation and to reduce water wastage in the region. The need of the hour is to prioritize our needs over our wants, specifically in relation to plastic consumption. Mindful consumption of materials like gadgets, packaged foods, textiles, etc is an important step to reduce our virtual water footprint considering the amount of fresh water that is required for manufacturing and production. LGW conducts training on following the right practices while in the region, such as preferring local products and locally grown foods.
There are still many miles to be traversed and milestones to be achieved by LGW, but finding the right momentum every morning, with the same determination and commitment towards a cause, is a success story. Organizations like LGW are a ray of hope for our Himalayas. They are an epitome of humanity and provide a sense of hope that we still stand a chance of saving our planet, as long as there is someone who cares. There is an environmentalist in all of us, because after all nature does not belong to us, rather we belong to nature. We just need to unlearn and learn accordingly.
To reach out to Little Green World, check out:https://www.littlegreenworld.co.in/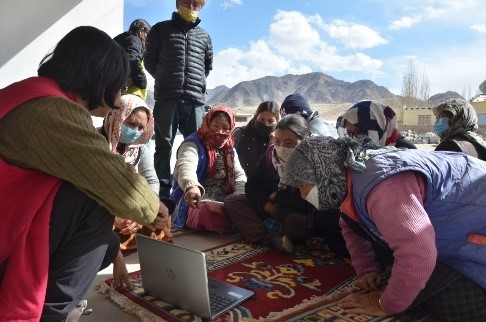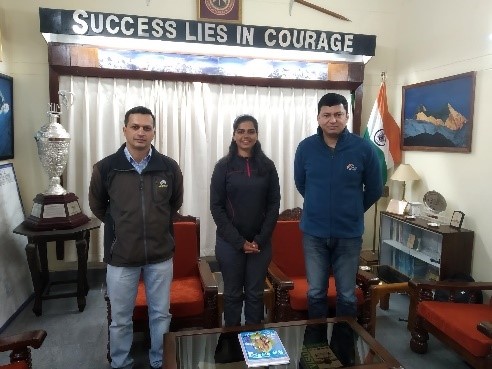 Picture courtesy : Little Green World