Magazine Online
International Day of Happiness: GDP vs Happiness
By Assist. Prof. Shashank Vikram Pratap Singh
Shri Ram College of Commerce
E-mail:
[email protected]
During the sixty-sixth session of the UN General Assembly, the then UN Secretary-General Ban Ki-Moon said – 'We need a new economic paradigm that recognizes the parity between the three pillars of sustainable development. Social, economic, and environmental well-being are indivisible. Together they define gross global happiness'.
The terms 'happiness or wellbeing' can be defined as the state of being (happy, healthy, comfortable and many more aspects of the human being) and the state of people's lives (how they feel, where they stay, what they do, the natural environment they live and many more).
In an era of dominance of market forces and enormous capital flows, the focus on happiness and well-being in public policy, can be viewed as a transformational initiative. The last two decades of the 21st century have witnessed the outcome of political and intellectual battles in the form of the voluminous literature on the different aspects of happiness and well-being through all kinds of academic and experiential research.
The common research problems for most of the research so far lie in addressing whether happiness can be equated with income (Gross Domestic Product – GDP) or not? Can income be used as an indicator for measuring happiness or wellbeing? Is it necessarily true that in richer economies the level of happiness is also high? Through such questions, an alternative approach to GDP to measure progress and development, is being studied and developed so that the next generations can view societies from newer perspectives and parameters.
Contradiction: GDP as an indicator of prosperity vs happiness index
The size of the Indian economy is approximately USD 10 trillion (using the Purchasing Power Parity – (PPP) method), and about $2.92 trillion (using the Nominal method), and is, therefore, ranked as the third and fifth largest economy respectively in the world. Despite having this chest-thumbing statistical data, the condition of the 'state of being and state of lives'- reflected through various indicators is as follows:
As per the latest available data; India's per capita income at the current dollar is around $2000 against the world average of $10,722. It stands in 144th position out of 153 countries in the Happiness index;
62nd out of 74 emerging economies in the inclusive development index;
116th out of 174 countries in the human capital index;
131st out of 189 countries in the human development index:
48th in the list of top 50 innovating counties in the global innovation index;
129th out of 158 countries in the inequality index;
139th out of 163 in the Global Peace Index; 142nd out of 180 in the World Press Freedom Index;
80th out of 189 in the Corruption Perception Index;
94th out of 107 in the Global Hunger Index;
111th out of 162 the Human Freedom Index;
168th out of 180 in the Environmental Performance Index;
145th out of 195 in the Healthcare Access and Quality Index;
112th out of 153 in WEF's Global Gender Gap Report, and
149th out of 153 in providing economic participation and opportunity to women.
The present doctor-patient ratio in India is around 1:10000 as compared with the WHO prescribed limit of 1:1000 and has 7 beds per 10,000 people while the global median is 27 per 10,000 people.
A similarly pathetic position exists in the case of the education sector and income disparity: 75 percent of grade three students and 50 percent of grade five students could not solve a two-digit simple subtraction, which is unexpectedly lower than most of the African countries (WDR, 2018), and the share of top one percent income earners has now reached the highest level (22%) in the national income data (Piketty, 2017). Between 1980-2014, the top 0.1 percent of earners captured a higher share of total growth than the bottom 50 percent (12 percent vs 11 percent). Oxfam (2018), too echoes with similar findings and reports that 73% of the total wealth created in the year 2017; went to the top 1% affluent population; whereas the lowest half of the population a rise of just 1% in their wealth.
These lists of indicators definitely do not project a happier 'state of being and state of life' although India's ranking is high in term of size of GDP.
Can we equate people's happiness with their income? One possible answer lies in the nature and original intention of the world's most followed statistical indicator. GDP is an outcome of political and intellectual battles among Clark, Stone, Meade, Keynes, Kuznets and Gilbert and two global events; the Great Depression of 1930 and World War II (1939-1945). GDP was developed to measure economic progress during the depression and guided President Roosevelt's government into formulating policies.
It is a great invention that enables thinkers, politicians, and policymakers to answer certain key questions like-whether or not a country is the fastest growing economy? Has the Chinese economy overtaken the US economy? Will India surpass the Chinese economy in the coming years? Is Ghana a poor country or not? But it does not answer; whether we are progressing in any meaningful sense? What is the status of overall human life and happiness?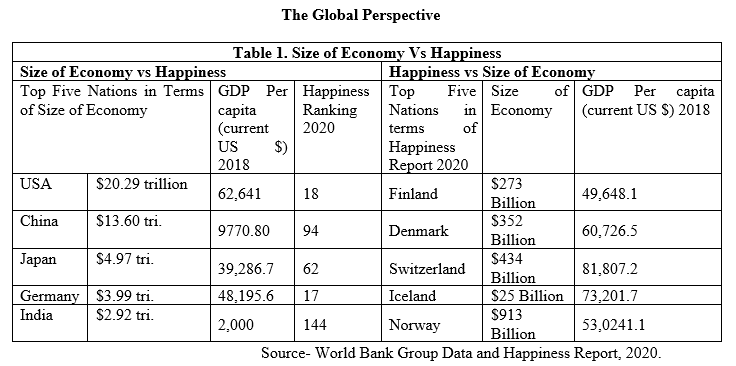 Answers to these questions are being addressed incorrectly through the prism of income. Economist Simon Kuznets, one of the earlier recipients of the Nobel prize in economics, once said: "the welfare of a nation can scarcely be inferred from a measure of national income", yet wartime politics overruled the notion of welfare.
How did it happen that thinkers started looking at everything through the prism of GDP and it became the dominant gospel indicator of  public policy? The power of the system of metrics is the most plausible answer. Stiglitz, Sen, and Fitoussi in their book, "Mis-Measuring Our Lives Why GDP Does Not Add Up" suggest that "the theories we construct, the hypotheses we test and the beliefs we have, are all shaped by our system of metrics", What if, the system of metrics has many flaws? What if, the system of metrics has been developed to serve some specific purpose and now is being used for somethings it was never developed to measure?
This is the exact case with GDP, it increases even when there are earthquakes, a fire, environmental disaster, human disaster, and higher accident, higher medical cost, higher repair cost caused by poor transport and infrastructure and goes down when a rickshaw puller takes the afternoon off to spend time with his family.
It counts the labor used and wood produced even when a tree is cut down but does not deduct the shade and beauty that we are lost. This is how Banerjee and Duflo (2019 Nobel laureate in Economics) described GDP in their latest book Good Economics for Hard Times (p.153). Other Nobel laureates in economics such as Kuznets, Hicks, Arrow, Nordhaus, Tobin, Kahneman, Deaton, Samuelson, Solow, Stiglitz, too raise their concern for considering GDP as an indicator for the care of human life and happiness.
Gross National Happiness (GNH) – An Alternative
In July 19, 2011, Bhutan (the pioneer of the Gross National Happiness Index) and 68 nations passed a resolution at the United Nations for 'Happiness: Towards a holistic approach to development'.
The UN General Assembly adopted this resolution which recognized happiness as a fundamental human goal and emphasised the need for more inclusive, equitable and balanced approach for economic development. This resolution mandated member nations to take steps towards putting effort into realising a vision for a development paradigm that integrates economic, social and environmental objectives.
Taking the lead from this resolution, the UN hosted its first high-level meeting on 2nd April 2012 on the theme of 'Happiness and Well-being – defining a new economic paradigm'. Mr. Jigme Y Thinley, the Prime Minister of Bhutan, was the main champion for this new agenda.  This historic meeting was attended by select heads of state, ministers, Nobel Laureates, eminent economists, scholars, and spiritual and civil society leaders from both developing and developed nations. On June 28, 2012, all the 193 member states of the UN General Assembly unanimously adopted UN resolution 66/281 and decided to observe 20th March as the International Day of Happiness or International Happiness Day.
However, despite GDP's many flaws, GDP is neither an incorrect nor a redundant indicator. As a measure of economic progress, it is still a better option than the rest in the absence of a perfect option.  Since the mid-twentieth century, many attempts have been being made across the world to gauge the happiness of people through different indicators, but none of the indicators developed have ever been able to replace GDP perfectly.
At the same time, we need to change our perspective from looking at everything through the prism of the Gross Domestic Product.
Bhutan is known for spearheading the movement to bring people's happiness into the world's development agenda.  It has been advocating for the concept of GNH in different forums across the globe. The government of Bhutan established the Center for Bhutan Studies and Gross National Happiness (CBSGNH) in 1998 with the objective to conduct research on this topic. The exclusive mandate was assigned to develop a GNH Index that can be used as an indicator for measuring the overall progress of the nation, unlike GDP, which only captures the progress of economic activities.
In 2010, it started measuring happiness of its citizens based on the variables related to quality of life, well-being, and happiness. The Planning Commission in Bhutan stated – "The pursuit of GNH calls for a multi-dimensional approach to development that seeks to maintain harmony and balance between economic forces, environmental preservation, cultural and spiritual values and good governance." Thus, GNH is based on four broader pillars: good governance, sustainable development, preservation and promotion of culture, and environmental conservation.  It uses two kinds of thresholds: Sufficiency thresholds and Happiness threshold, and measures all the 9 domains through 33 indicators (each having different weights), and 102 sub-indicators (questions). The intrinsic importance of these 9 domains are equal as a component of GNH. Therefore, weighted equally in GNH index, these 9 domains are:
Living standards: material comforts, measured by income, financial security, and housing asset ownership.
Health: both physical and mental health.
Education: types of knowledge, values, and skills.
Good governance: how people perceive government functions.
Ecological diversity and resilience: people's perceptions of the environment.
Time use: how much time is spent on work, non-work, sleep, and work life balance.
Psychological well-being: quality of life, life satisfaction and spirituality.
Cultural diversity and resilience: strength of cultural traditions.
Community vitality: relationships and interactions with the community, social cohesion, and volunteerism.
The core purpose of the Index is to measure the nation's wellbeing via individuals' achievements in each indicator. For this specific purpose, the  Alkire-Foster method of multidimensional measurement has been adapted. It identifies four groups of people – unhappy, narrowly happy, extensively happy, and deeply happy. The analysis explores two dimensions; one centred around the people already enjoying happiness and the other   focusing on how policies can increase happiness and sufficiency among the unhappy and narrowly happy people.