Magazine Online
Climate Change and Corporate Climate change risk Disclosure in Australia
Emma Florence
University of Sunshine Coast
E-mail:
[email protected]
Climate Change a global crisis
Climate change is a global challenge, and the crisis is a significant hurdle in the path to sustainable development (Kyte, 2014). It is also causing more damages at a faster pace than expected (World Economic Forum, 2020). Both the economy and our lives are affected by climate change (United Nations, 2020).
Australia's Annual Climate Statement for 2019 mentions the severe drought and increasing bushfire congenial weather patterns throughout the year are indications of gradual climate change (Australian Bureau of Meteorology, 2020).
Climate-Related Business Risks and Corporate Disclosure
At the 2020 Climate Action Summit, the UN secretary general called for all countries to declare "a State of Climate Emergency" (Dunne, 2020). The United Nations Environment Programme Finance Initiative (UNEP FI) estimates that delays in worldwide efforts to deal with the climate change issue will likely cause business losses of nearly US$1.2 trillion over the next 15 years (UNEP FI, 2019). Climate change poses physical and transition risks to businesses. Examples of physical risks include increases in mean and maximum temperatures, increased incidence of extreme weather events, and increases in the mean sea level. The examples of transition risks include changes in international and domestic policy, law, markets and customer and community attitudes towards business activities (Governance Institute of Australia, 2020).
Over the years investors have also become interested in companies' climate change related disclosures in their sustainability reporting (Strine et al., 2020). Therefore, large companies in particular, are urged to disclose their material risks in relation to climate change and the ways they are managing the risks. Australian corporate reporting and auditing regulators – the Australian Accounting Standards Board (AASB) and the Auditing and Assurance Standards Board (AUASB) – have jointly released guidance to organisations on their climate-related financial reporting obligations (AASB/AUASB, 2018). The guidance reinforces that report preparers, assurers and auditors must approach climate change-related issues with the same degree of rigour as is the case with any other financial disclosures; otherwise, companies and directors could be held liable for breach of duty and/or misleading disclosure under Australia's company law. Under the latest edition of the Corporate Governance Principles for companies listed on the Australian Securities Exchange (ASX), it is recommended to provided clear guidance on how to disclose climate risks (ASX, 2019).
Core Elements of Climate Risk Disclosure
Since 2019 the ASX has advocated that listed companies in Australia adopt the climate change risk disclosure recommendations of the Task Force on Climate-related Financial Disclosures
Figure 1: TCFD Elements (TCFD, 2017)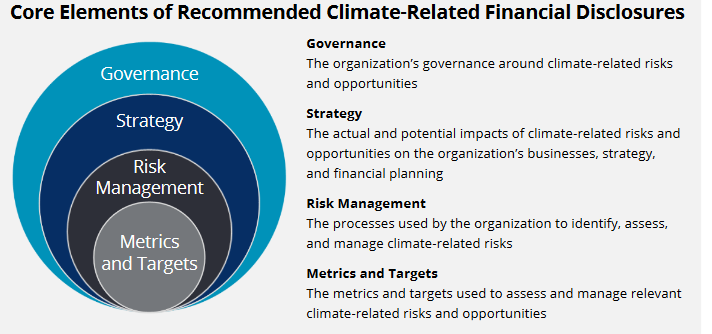 Since its release in 2017 many regulators across the globe have endorsed the TCFD's framework. As shown in figure 1, the TCFD framework consists of four core elements: governance; strategy; risk management; and metrics and targets (TCFD, 2017).
Climate Risk Disclosure by Australian Listed Firms
The global status report released recently by the TCFD indicates that disclosure is increasing however, there is a pressing need for improvement in the quantity and quality of climate change related disclosures (TCFD, 2020). Similar to the global trend, Australia's top companies are increasingly disclosing climate risks in alignment with the TCFD recommendations, but greater quantity and quality are required.
In a longitudinal study, it has been found that in the financial year 2018-2017, the majority of the ASX's 100 listed companies expressed an intention to adopt the TCFD recommendations (ASIC, 2018). In 2019 the study found that most of Australia's top 200 companies incorporated one or more elements of the TCFD recommendations in their annual financial or sustainability report. Among the companies that have made some disclosures, more than 40 per cent covered all four elements of the TCFD's disclosure framework. Some of the companies that demonstrate excellent disclosure practices are AGL Energy Limited, Aurizon Holdings Limited, and Insurance Australia. However, nearly one-third of all TCFD adopted companies have reported only one element. At the same time, more than 15 per cent of the sampled companies have made zero disclosures in relation to climate change risks. These companies include Bravura Solution Limited, James Hardie Industries Plc, and Polynovo Limited.
Linking Climate Risk Disclosure to Management Characteristics
While large companies are generally investing greater efforts into climate risk disclosure under stakeholder pressure, many of them are lagging behind. This suggests that stakeholder pressure alone cannot explain this phenomenon. It is worth investigating whether board and management characteristics also have a positive association with climate risk disclosure, given that climate change was an institutional priority in the 2020 reporting season and will continue to be so 2021 (Australian Institute of Company Directors, 2020). A recent study of Annual Reports or Sustainability Reports from 2019 of 200 ASX listed companies showed that, the level of climate risk disclosure by these top companies has a positive relationship with the proportion of female directors in the boardrooms. Hence, future research could be extended to other jurisdictions to support this fact if board and/or management's characteristics has any influence on climate change disclosure in other jurisdictions also.
References
AASB/AUASB. (2018). Climate-related and other emerging risks disclosures: assessing financial statement materiality using AASB/IASB Practice Statement 2. The Australian Accounting Standards Board (AASB) and the Auditing and Assurance Standards Board (AUASB). Retrieved on December 12, 2020 from: https://www.aasb.gov.au/admin/file/content102/c3/AASB_AUASB_Joint_Bulletin_Finished.pdf.
ASIC. (2018). Report 593 – Climate risk disclosure by Australia's listed companies. The Australian Securities and Investments Commission (ASIC). Retrieved on December 12, 2020 from: https://download.asic.gov.au/media/4871341/rep593-published-20-september-2018.pdf.
ASX. (2019). Corporate Governance Principles and Recommendations, 4th edition. The Australian Securities Exchange (ASX). Retrieved on December 12, 2020 from: https://www.asx.com.au/regulation/corporate-governance-council.htm.
Australian Bureau of Meteorology. (2020). Annual climate statement 2019. Retrieved on December 12, 2020 from: http://www.bom.gov.au/climate/current/annual/aus/.
Australian Institute of Company Directors. (2020). Why climate change risk hasn't gone away. Retrieved on December 12, 2020 from: http://aicd.companydirectors.com.au/membership/company-director-magazine/2020-back-editions/november/why-climate-change-risk-hasnt-gone-away.
Dunne, D. (2020). UN secretary-general calls on world to declare 'climate emergency'. Independent. Retrieved on December 12, 2020 from: https://www.independent.co.uk/environment/climate-change/climate-emergency-ambition-summit-antonio-guterres-un-secretary-general-b1771420.html.
Finkelstein, S., Hambrick, D. C., & Cannella, A. A., Jr. (2009). Strategic leadership: Theory and research on executives, top management, teams, and boards. Oxford University Press.
Freeman, R. E. (1984). Strategic management: A stakeholder approach. Cambridge university press.
Freeman, R. E., Harrison, J. S., & Zyglidopoulos, S. (2018). Stakeholder theory: Concepts and strategies. Cambridge University Press.
Governance Institute of Australia. (2020). Climate change risk disclosure: A practical guide to reporting against ASX Corporate Governance Council's Corporate Governance Principles and Recommendations. Retrieved on December 12, 2020 from: https://www.asx.com.au/documents/asx-compliance/gia-climate-change-guide.pdf.
Hambrick, D. C. (2007). Upper echelons theory: An update. Academy of Management Review, 32(2), 334-343. https://doi.org/10.5465/amr.2007.24345254
Hambrick, D. C., & Mason, P. A. (1984). Upper echelons: The organization as a reflection of its top managers. Academy of management review, 9(2), 193-206. https://doi.org/10.5465/amr.1984.4277628
IUCN. (2020). Climate change now top threat to natural World Heritage – IUCN report. The International Union for Conservation of Nature (IUCN). Retrieved on December 12, 2020 from: https://www.iucn.org/news/secretariat/202012/climate-change-now-top-threat-natural-world-heritage-iucn-report.
Kyte, R. (2014). Climate Change Is a Challenge For Sustainable Development. World Bank. Retrieved on December 12, 2020 from: https://www.worldbank.org/en/news/speech/2014/01/15/climate-change-is-challenge-for-sustainable-development.
Marquis, C., & Lee, M. (2013). Who is governing whom? Executives, governance, and the structure of generosity in large US firms. Strategic Management Journal, 34(4), 483-497. https://doi.org/10.1002/smj.2028
Post, C., & Byron, K. (2015). Women on boards and firm financial performance: A meta-analysis. Academy of Management Journal, 58(5), 1546–1571. https://doi.org/10.5465/amj.2013.0319
Readfearn, G. (2020). Fighting for Fraser Island: how tourism and climate change put an ancient environment at risk. The Guardian. Retrieved on December 12, 2020 from: https://www.theguardian.com/environment/2020/dec/11/fighting-for-fraser-island-how-tourism-and-climate-change-put-an-ancient-environment-at-risk.
Skaggs, S., Stainback, K., & Duncan, P. (2012). Shaking things up or business as usual? The influence of female corporate executives and board of directors on women's managerial representation. Social Science Research, 41(4), 936-948. https://doi.org/10.1016/j.ssresearch.2012.01.006
Strine, J., Main, R., & Lindsay, M. (2020). 2020 Proxy Season: A Look Back, and A Look Forward. Retrieved on December 12, 2020 from: https://corpgov.law.harvard.edu/2020/08/23/2020-proxy-season-a-look-back-and-a-look-forward/.
TCFD. (2017). Recommendations of the Task Force on Climate-related Financial Disclosures. Retrieved on December 12, 2020 from: https://www.fsb-tcfd.org/publications/.
TCFD. (2020). 2020 Status Report. Task Force on Climate-related Financial Disclosures (TCFD). Retrieved on December 12, 2020 from: https://www.fsb.org/2020/10/2020-status-report-task-force-on-climate-related-financial-disclosures/.
UNEP FI (2019). Changing course: Real Estate. United Nations Environment Programme – Finance Initiative. Retrieved on 27 January 2020 from: https://www.unepfi.org/wordpress/wp-content/uploads/2019/11/TCFD-Real-Estate-Web_final_28112019.pdf.
United Nations. (2020). Goal 13: Take urgent action to combat climate change and its impacts. Retrieved on December 12, 2020 from: https://www.un.org/sustainabledevelopment/climate-change/.
World Economic Forum. (2020). The Global Risks Report 2020, 15th edition. World Economic Forum. Retrieved on December 12, 2020 from: https://www.weforum.org/global-risks/reports